Fear of being seen as self-righteous bores is among the many reasons that environmentally conscious Australians don't buy green products.
A large majority of Australians have long wanted action taken to address environmental problems, yet green consumerism remains a fringe phenomenon with only a tiny minority purchasing products that can help preserve the planet.
This disconnect between Australians' growing environmental consciousness and their reluctance to purchase environmentally friendly products has long fascinated Dr LayPeng Tan, a Senior Lecturer at Macquarie Business School.
Along with colleagues based across the Asia-Pacific region, Tan has spent years investigating this so-called 'green gap'.
In one recent study, Tan conducted seven focus groups in Australia and New Zealand and asked participants why they didn't buy green household products.
Noble intentions, expedient buying behaviour
Having identified the most common explanations, she then surveyed a further 814 people to determine if those explanations resonated with a broader sample group. After analysing the survey responses, Tan concluded there were a set of common reasons most consumers don't buy green products. These reasons are:
Consumers don't believe green products perform as effectively as conventional ones
"Unsurprisingly, respondents tended to think green products were better for the planet with 60% agreeing with the statement 'Environmentally friendly household products are better for the environment'; 32.6% were neutral and only 7.5% disagreed with that contention,'" Tan says.
But while most respondents accepted the eco-friendly bona fides of green products, many harboured doubts about their ability to get the job done.
"Only 12.3% of respondents agreed with the statement, 'Environmentally friendly household products perform better'; 53.3% were neutral and 34.4% disagreed," Tan says. "Focus group participants said things like, 'I'd like to use this green brand of laundry powder but it doesn't get the stains out.' "
Consumers see going green as a major commitment  
"Survey responses indicated that Australians and New Zealanders tend to have an all or nothing mindset about buying green products," Tan observes.
"The data is complex but, to summarise, 60-70% of respondents believed purchasing environmentally friendly products required some or a lot of time and involved making significant sacrifices, such as giving up buying brands they were attached to.
"Only around a third of respondents thought buying green products involved very little time and very little sacrifice."
Consumers fear being seen as self-righteous bores
"One of our respondents had two different soaps – green ones she used and conventional ones she put out when visitors were coming over," says Tan. "We investigated whether people were worried about being seen as hippies if they used green products. It turned out they weren't concerned about that: 50.37% of respondents disagreed and 33.29% were neutral about the statement "Green consumers tend to be hippies'.
"However, 43.2% of respondents did agree with the statement 'Green consumers think they are better than others because they make an effort to be environmentally friendly' and 34.64% agreed with the statement 'Green consumers make others feel guilty for not being as environmentally friendly as them'.
"So, it's not irrational for people to worry friends and family members will perceive them as prideful and preachy if they had green products in their home."
Consumers lack a sense of agency or responsibility
"There's a framework called Neutralisation Theory; it posits people rationalise their behaviour in five ways," Tan says.
"Three of those ways – the denial of responsibility, the denial of injury and the appeal to higher loyalties – came up frequently in relation to not buying green products.
"For instance, 54.3% of respondents agreed with the statement 'I cannot help to slow down environmental deterioration', 68.67% agreed with the statement 'I do not need to do anything because the environment is not a major concern' and 45.09% agreed with the statement 'I have insufficient time for environmental issues'."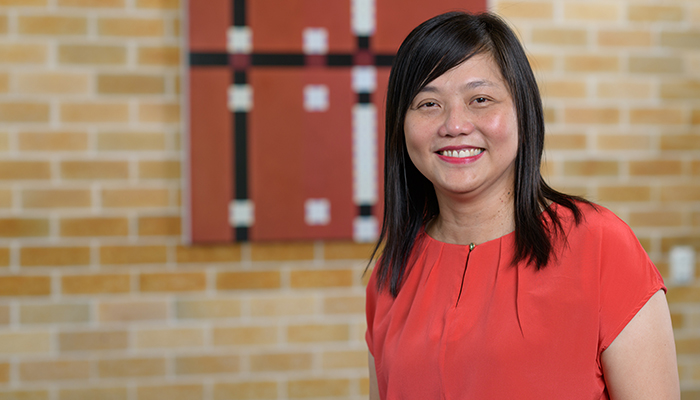 Sustainable shopping: The cost of buying green products is one of many issues for consumers, says Tan.
Tan concedes there are other factors, such as cynicism about 'greenwashing' (i.e. companies making dubious claims about the environmental benefits of their products) that inhibit green consumerism. But she believes these things feed into the 'explanatory factors' she's identified.
"For instance, if I can convince myself the phosphate-free detergent has been greenwashed and isn't any less damaging than the conventional variety, it is much easier to deny responsibility," Tan says. "I can tell myself buying it would be a pointless gesture."
So, where to for green consumerism
Tan has the following suggestions for those wanting to encourage green consumerism.
Break environmentally friendly products out of the green ghetto
"Green products are still perceived as alternatives to conventional ones. What's more, Australians assume these products are purchased by hardcore environmentalists; that is, a group seen as standing apart from mainstream Australians," Tan says.
"If I were marketing a green product, I'd make it seem as normal as possible. I'd make ads featuring suburban mums, tradies, farmers, miners, nurses and so on using the product. When consumers believe their peer group has embraced a product, they are more inclined to start using it themselves."
Appeal to self-interest
"Asking people to stop using brands they're attached to in order to generate an unspecified downstream benefit to the planet is a hard sell," Tan says. "I suspect more concrete appeals – such as 'This body wash is free of chemicals that are bad for your skin and the environment' or 'You'll be able to take your grandchildren camping next to unspoiled waterways if you switch to this detergent' – are more powerful."
Address legitimate consumer concerns
"The greater cost of green products is an issue for consumers, but my research suggests performance rather than price is the dealbreaker," says Tan. "Consumers won't buy green products if they don't do what they are meant to. That means manufacturers who remove hazardous substances have to make sure the less-toxic substitutes still deliver the goods."
Lobby the federal government to introduce a rating scheme 
"Greenwashing is a problem and most consumers don't have the time or inclination to scrutinise labels and do online research to verify the bona fides of products," Tan says.
"There's an easy to understand energy-rating scheme for electrical appliances. It would be helpful if there were a similar rating scheme for items such as dishwashing liquid, laundry powder, toilet cleaners, antibacterial hand gels, razors and toothpaste."